The 'Jewish Jordan' talks basketball, Judaism, and giving back
By Karina Grudnikov
(JUF News) — "Jewish Jordan" — that's the nickname Sports Illustrated gave Tamir Goodman when he was merely 17 years old and a high school junior at the Talmudical Academy of Baltimore. Ranked among the best 25 high school basketball players in America, Goodman seemed set to become the first Orthodox Jew to play for the NBA.
Things didn't go as expected — plans to attend the University of Maryland fell through because the basketball schedule would have forced him to play on the Sabbath. He attended Towson University instead, but only played basketball for two seasons.
Despite the setbacks, Goodman did become a pro-basketball player, playing in Israel for six seasons on teams such as Maccabi Tel Aviv and Maccabi Haifa. He also played for the Maryland Nighthawks, but eventually a series of injuries caused him to retire from basketball in 2009.
Since then, he has been focused on inspiring the next generation through a variety of initiatives aimed at connecting children with sports and their Jewish identity, both in Israel and the United States.
* * *
How would you say Judaism and basketball intertwined in your life?
Basketball and Judaism have always been one thing to me. I always played basketball for the Jewish people and Israel, because when I had that in my mind, it gave me extra motivation…to come back from injuries or to practice harder or play harder, to succeed. Because it wasn't about me — it was about something much bigger than me…It gave me a stronger work ethic than if I had just played for myself…
There were other players who would say, "I played well today, I can take it easy tomorrow." I was never like that. I could never be satisfied with my performance; I always had a need to move forward…And many things we learn from Judaism you need for basketball, such as the value of a work ethic.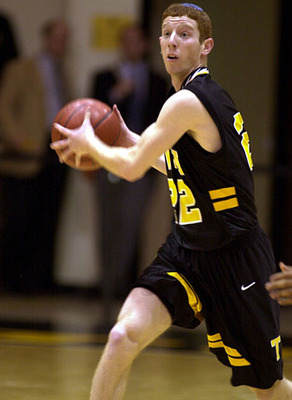 How do you feel about being called the "Jewish Jordan?"
Being called the "Jewish Jordan," I always used it as a tool to inspire or help other people. I never played basketball for myself — I always played for the Jewish people and Israel… I always used it as a tool to inspire other people. I would think, "Wow, maybe someone looks up to me because they call me the "Jewish Jordan." How am I going to take that media attention and inspire people? I was never really comfortable with being called that, so I tried to use the media attention that came along with the nickname to do as much good as possible.
You didn't end up playing college basketball at the University of Maryland because of scheduling that conflicted with your religious practices.  You also didn't end up making it into the NBA. Do you lament the way things turned out or do you think everything happens for a reason?
With everything in my career, I feel so fortunate and blessed and believe that everything that happened was for a reason.  The challenges I faced have prepared me for the work I do now. I can relate to kids and their struggles in a way that I would not have been able to had everything been smooth sailing.
Even with the challenges, I was able to live out my dream. I played basketball in college and pro-basketball in Israel and the U.S. — all without playing on Shabbat. It was an amazing experience and I feel so fortunate.
I also did military service in the IDF Service and was awarded the "Outstanding Soldier Award."
It was a miracle that I was able to reach so many of my goals without playing on Shabbat, and I'm grateful to my coaches and everyone who helped me along the way.
What do you ultimately hope to inspire in young people by being so involved with youth programming?
I hope to inspire them to be proud of their Jewish identity. Uniting the physical and spiritual is what Judaism is about. If you want to be a professional athlete, you shouldn't see it as hindrance that you are Jewish… It's the opposite.
Judaism is a blessing… Judaism teachers us to embrace our talents and channel them in the right way… This concept directly relates to sports, such as in the ideas of team building, work ethic, reaching goals, being organized, being positive… We bring out all these Jewish values through sports because it resonates with the kids…We talk to them in a language they understand to teach those values.
We teach them that even before you step on the court, you need to understand who you are and what you represent. You represent more than yourself — as a Jewish athlete, you represent the Jewish people and Israel.
* * *
For more information about Tamir Goodman and Coolanu Israel, visit www.tamirgoodman.com.